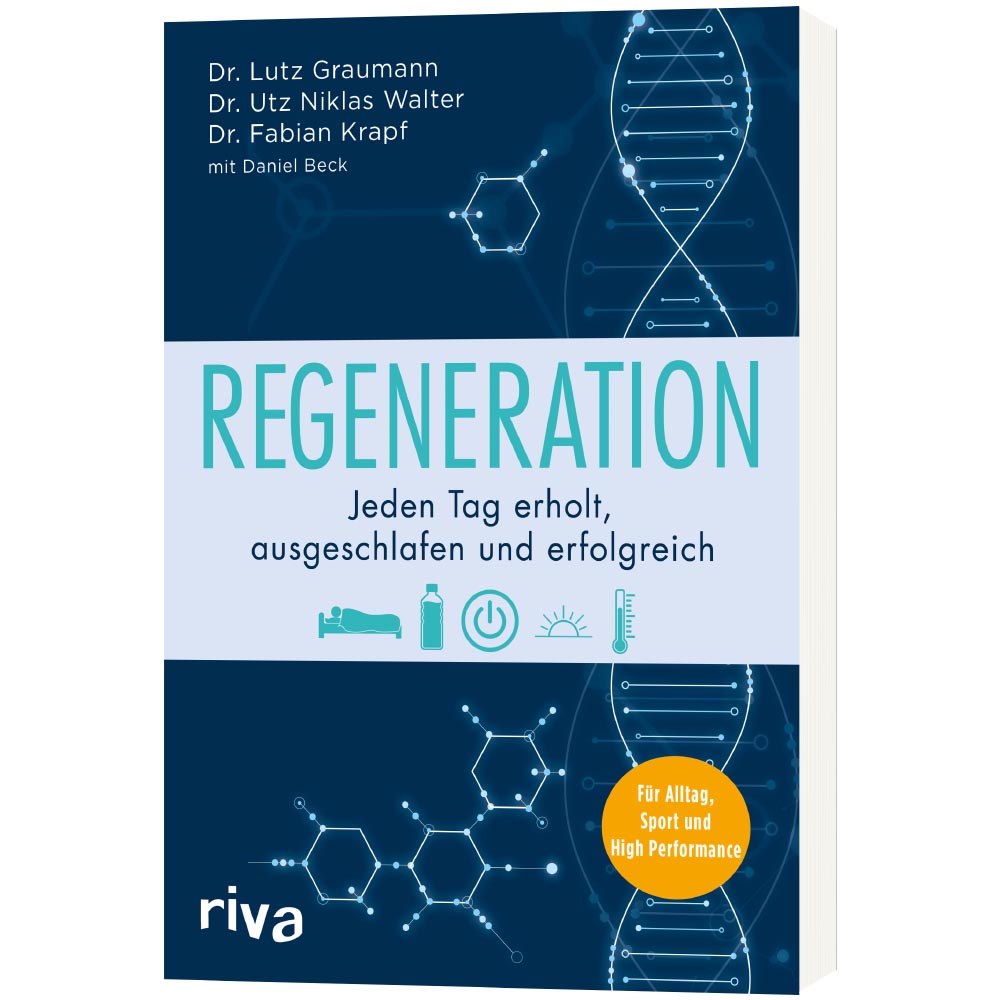 Dr Lutz Graumann | Dr Utz Niklas Walter | Dr Fabian Krapf
Background information on human physiology and proper regeneration
Develop individual measures on the basis of self-tests
Sample and table of contents are linked in the description
softcover, 176 pages
ISBN: 978-3-7423-1088-0
Available, delivery time 1-3 days
Accessories
You are still missing suitable accessories for your training? Select your (additional) training equipment here:
Whether at work, in sports or in everyday life - each of us is exposed to high levels of stress. Sports physician Dr. Lutz Graumann and sleep experts Dr. Utz Niklas Walter and Dr. Fabian Krapf show how optimized regeneration can help us perform better both physically and mentally.
Based on current research results and many years of experience in top-class sports, they present the most efficient regeneration strategies for body and mind - from cold applications to relaxation techniques and simple biohacks.
The authors provide background information on human physiology and explain how nutrition, sleep, chronobiology and lifestyle habits influence our regeneration and how we can improve it. Using self-tests, you can work out individual measures that will help you stay balanced, motivated and healthy in the long term.
About the authors:
Dr. Lutz Graumann
is a physician for sports medicine, nutritional medicine and chiropractic. His focus is on the promotion of individual performance. Due to his multiple participation in research programs in the USA, Canada and Europe, he is considered an authority in the field of performance medicine and functional training. His two books Get Fit to Run and Functional Fascia Training with BLACKROLL® were published by riva Verlag.
Dr. Lutz Niklas Walter
studied at the German Sports University in Cologne and earned his doctorate in the field of occupational health research. In doing so, he intensively studied the effects of sleep on performance. As one of the leading sleep experts in Germany, he advises companies and their employees on sleep and regeneration. His references include Bayer, Bosch, Daimler, Roche and the Baden-Württemberg police force. He also offers webinars and video chats for private individuals via the sleep portal www.letsleep.de.
Dr. Fabian Krapf
is a sports scientist and holds a doctorate in health psychology. His areas of focus include sleep and men's health. He is head of the Germany-wide future study "whatsnext - Healthy working in the digital working world" and is one of the most sought-after German experts on the topic of sleep in the context of the working world. Krapf advises managers and employees at Bosch, Lufthansa, Merck, MAN and the Deutsche Bundesbank. Together with his colleague Dr. Utz Niklas Walter, he founded the sleep portal www.letsleep.de.
There aren't any asked questions yet.