Sitting is the new smoking (book)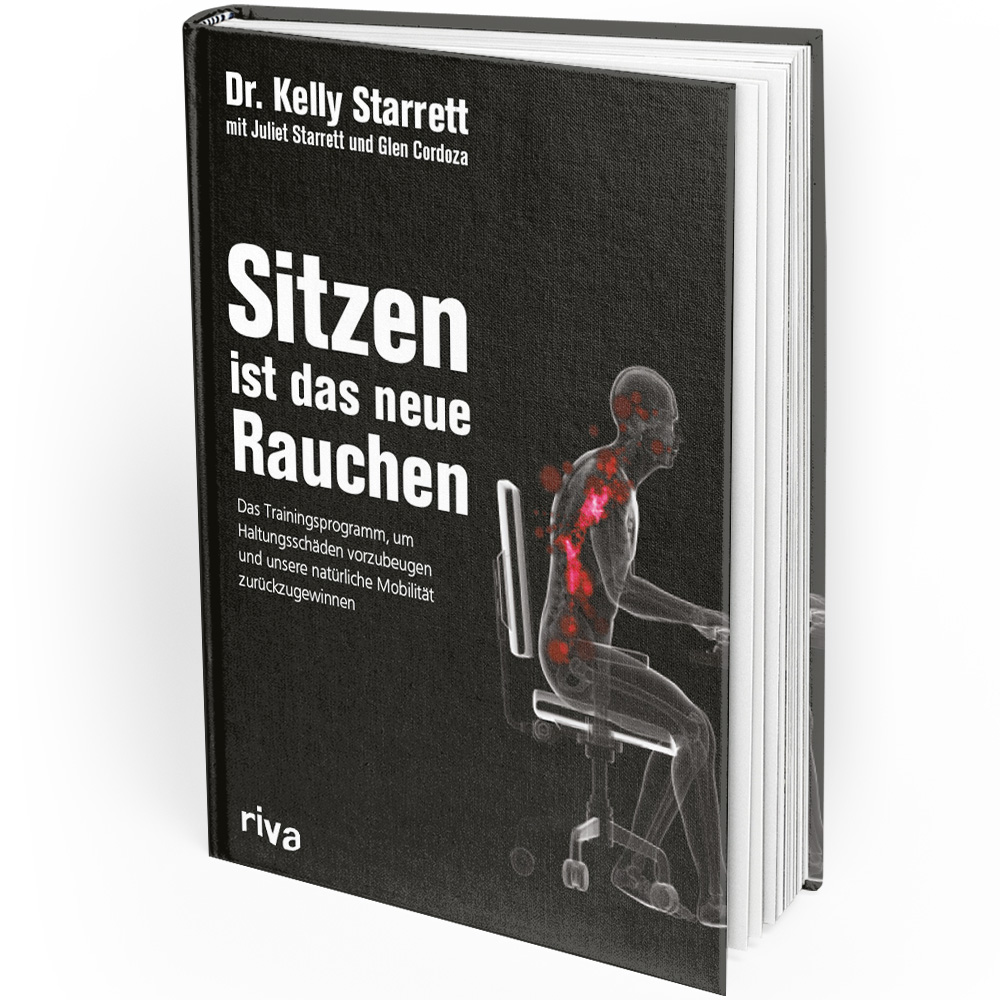 Kelly Starrett | Glen Cordoza | Juliet Starrett
14 Mobilization plans for daily basic bodywork
eliminate pain and improve mobility
Sample is linked in the description
hardcover, 368 pages
ISBN: 978-3-86883-800-8
Available, delivery time: 1-3 days
Accessories
You are still missing suitable accessories for your training? Select your (additional) training equipment here:
The exercise program to prevent postural deformities and regain our natural mobility!
Recent scientific research shows that too much sitting can contribute to the development of a variety of diseases - from obesity and diabetes to cancer and depression. Those who work while sitting also frequently contract musculoskeletal disorders. Sitting at work therefore poses just as much of an occupational risk as lifting heavy loads. The fact is: the chair is our enemy and is killing the body piece by piece.
In his groundbreaking new book, renowned physical therapist and author of the worldwide bestseller Become a Sleek Leopard Dr. Kelly Starrett presents a detailed battle plan for survival in our sedentary society. He offers creative solutions to reduce the amount of time we spend sitting and reveals strategies to transform the desk into a dynamic workspace.
Readers will learn how to:
Locate and correct harmful postures.
Eliminate back, neck and shoulder pain
Avoid or permanently alleviate carpal tunnel syndromes
correctly aligns and stabilizes the spine and trunk
walks naturally, squats, carries loads and flexes the trunk
Completes daily basic bodywork with 14 mobilization plans to eliminate pain and improve mobility
This book will help anyone who sits a lot, whether they want to improve their performance at work or beyond, lose weight, or just live pain-free. It is a revolutionary cure for desk death.
About the Author:
Dr. Kelly Starrett
has revolutionized the way coaches, athletes, and laypeople approach movement, body mechanics, and the realization of human and athletic potential with his best-selling book Become a Sleek Leopard. Starrett co-founded San Francisco CrossFit and developed the internet portal MobilityWOD.com, where he shares his innovative approach with coaches and athletes worldwide. Starrett teaches his renowned CrossFit Movement & Mobility Course around the world. Athletes he has coached and treated include elite soldiers in the U.S. Army, Navy, Air Force and Coast Guard troops, as well as top athletes in the NFL, NBA, NHL and MLB and U.S. national and world-ranked athletes. Kelly Starrett consults with Olympic and university teams and lectures at symposiums on strength and conditioning training.
Glen Cordoza
is a New York Times and Wall Street Journal best-selling author and was a professional mixed martial arts (MMA) and muay thai athlete. He is one of the most widely read authors when it comes to MMA, Brazilian Jiu-Jitsu, Muay Thai and fitness and has written over 20 books on these topics.
Juliet Starrett
Is an attorney, athlete and entrepreneur. She is the co-founder and CEO of CrossFit in San Francisco and the online fitness program MobilityWOD.com. A mother herself, she is also the co-founder of the nonprofit StandUp Kids and is dedicated to providing a standing desk for every child in a public school over the next 10 years, declaring war on sitting.
She was a professional athlete and part of the U.S. Extreme Whitewater kayak team from 1997 to 2000. She won two world championships and five national titles.
There aren't any asked questions yet.