TOGU® Gymnastic ball ""MyBall"" - red 55cm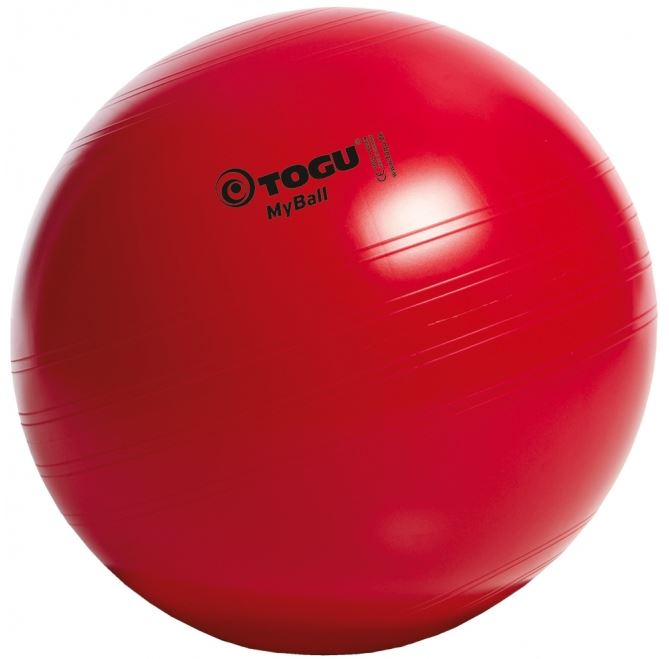 Verbesserung der Körperhaltung

In 3 Größen erhältlich

Rutschfeste, strapazierfähige Oberfläche

Stärkung und Formung der gesamten Muskulatur
Available, delivery time 1-3 days
Accessories
You are still missing suitable accessories for your training? Select your (additional) training equipment here:
The classic among stability trainers!
A strengthened core muscles, the perfect posture and an optimal body awareness - with the exercise ball you achieve all in one! A stable and agile core is not only important for safe and intensive fitness training, but also influences the entire quality of life. A positive body awareness and good posture affect your general well-being and charisma, and thus lead not only to success in the workout.
The exercise ball strengthens and shapes the muscles of the entire body. Due to the permanent instability during training with the ball, especially the deep muscles are activated and strengthened, which ultimately leads to a significantly increased torso stability. You will see the first results very soon! Different sizes allow an optimal choice of the gymnastic ball, suitable for your personal requirements. When choosing the diameter you should orientate yourself on your body size.
The following guideline values have proven themselves:
For a body height up to 1.68 m: ball diameter of 55 cm optimal (color: red).
For a body height of 1.68 m - 1.78 m: Ball diameter of 65 cm optimal (color: green).
For a body height of 1.78 m and above: ball diameter of 75 cm optimal (color: blue).
Important: The knee joints should be bent at a 90° angle when sitting on the exercise ball
There aren't any asked questions yet.