Optimal regeneration with yoga and Blackroll (Book)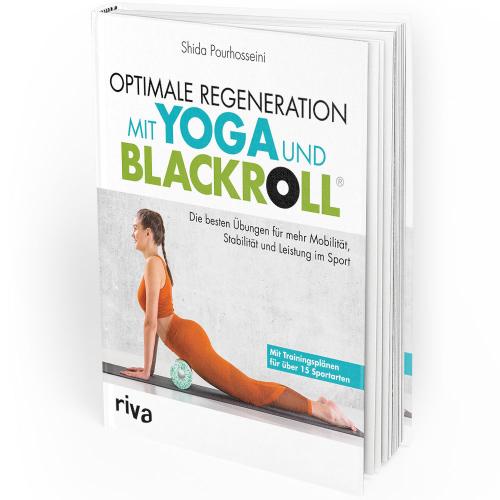 This product is currently not available
Perfectly suited for beginners
Combination of Yoga and fascia training

More mobility and joint flexibility
Over 140 exercises: Roll out, mobilization & stabilization
Integration of stretching and meditative yoga postures

€5.00*
%
€19.99*
(74.99% saved)
BLACKROLL® products are an established aid in both competitive and amateur sports. The combination with yoga results in a holistic fascia training, which leads to more mobility and joint flexibility and is ideal for the regeneration of athletes. Doctors, therapists and professional clubs have also recognized this and are increasingly relying on yoga and BLACKROLL®.
Yoga teacher Shida Pourhosseini, together with BLACKROLL® and other experts, has developed the perfect program for you to train like the pros. No matter what sport you practice: The more than 140 exercises for rolling out, mobilization, stabilization, stretching and relaxation offer a comprehensive selection from which you can compile your optimal training supplement. Soothing myofascial self-massages as well as strengthening, stretching, and meditative yoga poses provide targeted support for your body to help prevent injury, speed recovery, and enhance performance.
With sport-specific training plans for basketball, volleyball, handball, soccer, triathlon, running, cycling, swimming, tennis, golf, field hockey, badminton, climbing, bouldering, windsurfing, snowboarding, water skiing, skating, and skiing.
About the author
Shida Pourhosseini is a certified yoga instructor and trained BLACKROLL® master trainer, specializing in professional athletes. She coaches former swimming world champion Marco Koch and professional triathlete Daniela Sämmler, works for several national soccer league teams, and teaches junior players at the Eliteschule des Sports/Eliteschule des Fußballs in Frankfurt. Amateur athletes also find their way to her and benefit from her sport-specific fascia yoga training.
Defective copy
The statutory fixed book price applies to books in Germany. Excluded from this are so-called defective copies, for which the price maintenance has been officially lifted. These are books with slight storage or transport damage, which are no longer considered as new. They are marked with a stamp "Mängelexemplar". The books are unused and have never been in private hands.
There aren't any asked questions yet.